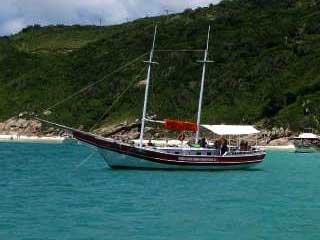 Schooner Cruise 2h 30m
Duration: 2h 30m. Frequency: Daily Departure:9:30am, 12:30am/03:00pm STOPS: Feia Island (30 minutes) - Tartaruga Beach (30 minutes)

Our schooner cruise pass by 12 Beaches and 3 Islands: Armação, Ossos, Azeda, Azedinha, João Fernandes, J. Fernandinho, Branca Island, Feia Island (and beach), Tartaruga, Tartaruguinha, Virgens, Amores, Canto, Caboclo Island.
INCLUDED:
• Snorkling equipment (Mask and Snorkel)
• Fishing equipment
• Kayak
• Toboggan.
• Airbed and "pool noodles".
BAR INCLUDED:
Caipirinhas, sodas, spring water and tropical fruits.
OPTIONAL:
Beer, whisky and snacks.
Lunch at Tartaruga Beach or João Fernandes Beach.
EQUIPMENTS:
Toilet , sofa to rest, stereo sound ,radiotelephone
Covered area
Salvage equipment
Board service
Small boat