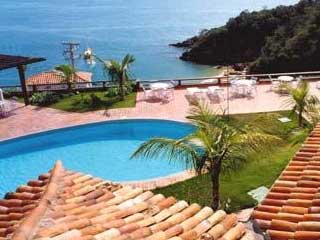 Colonna Galapagos Garden
Location: The Galápagos Garden is located at Praia de João Fernandes, at the end of Buzios Peninsula with a dazzling view to João Fernandinho's beach.
Accommodations: The Galápagos Inn holds 37 rooms, 2 of them are suite houses (flats), all of them with ocean view, telephone, fridge, air conditioner and cable TV.
Restaurants and Bars: Base for international gastronomic events, it has been standing out for its versatility, bringing on all countries cookery, even the most exotic, to our guests and visitors with the well-known Restaurant of the Galápagos Inn and the Tropical Bar
Leisure and Services: Swimming Pool, dry and steam Sauna, Gym, Entertainment Lounge, Restaurant, Bar with live music played throughout the year, Roofed Garage, Laundry and Beach Service.